Seattle Fire Extinguisher Inspection and Tagging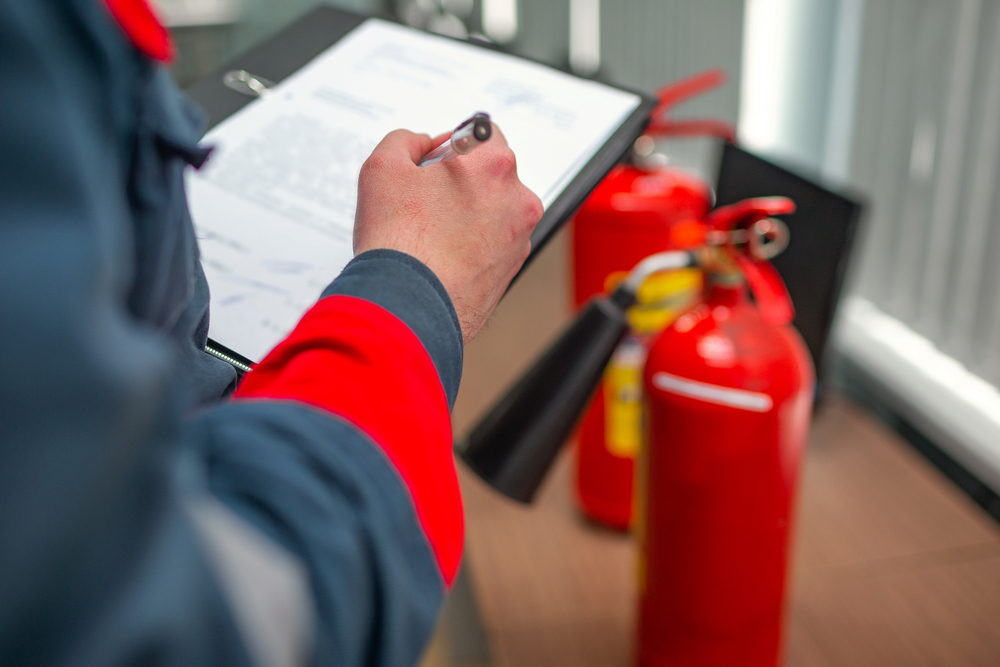 Fires can spread quickly, so property owners must have the proper equipment to stop a fire right at its source. While you have a fire alarm and sprinkler system, you still need to equip your building with properly placed fire extinguishers in good working condition. They are an effective safety tool to prevent a fire from breaking out and causing life-threatening injuries and extensive property damage.
That being said, more than just owning a fire extinguisher is required to safeguard your property. To comply with NFPA 10, you must have them inspected and tagged annually. Failing to have your fire extinguishers inspected and tagged by a certified fire technician means that you are in violation of code regulations and that the safety of your patrons, employees and residents is in jeopardy.
If you need fire extinguisher services in Seattle, turn to fire safety and protection professionals at Pacific Fire & Security. We offer annual fire extinguisher inspections and tagging, helping you prepare for an emergency situation.
Fire Extinguisher Inspection in Seattle
A damaged or malfunctioning fire extinguisher is not only a threat to your property, residents, and employees but to the safety of the general public. Do your part as a commercial business owner, and contact a reliable fire safety company to perform your annual inspection.
Annual fire extinguisher inspections are imperative for the following reasons:
Inaccurate tagging can result in a fire extinguisher failing to operate in your time of need.
Defective or broken fire extinguishers may go years before you fix or replace them, putting you at increased risk of an emergency fire situation.
Keeping your building compliant with NFPA 10.
During your fire extinguisher inspection, our certified technicians will:
Ensure your fire extinguishers are placed in the correct locations.
Make sure your fire extinguishers are adequately mounted, unobstructed, and ready for anyone to use in an emergency.
Make sure the instructions and warning information is legible.
Inspect each fire extinguisher for damages such as cracks, dents, faulty valves, corrosion, or leakage.
Examine the pressure gauges and weights to see if your extinguishers are charged correctly.
Dispose of defective fire extinguishers.
Tag each fire extinguisher following the inspection to document that they have been properly inspected by fire safety personnel.
Ensure total compliance with all fire codes.
Fire Extinguisher Tagging in Seattle
Each fire extinguisher in your building has a corresponding tag attached to it. This tag documents its model and serial number, the manufacturer, the license number of the technician who performed the last inspection, and the date of its previous inspection.
Following your fire extinguisher inspection, our certified fire technician fills out each tag, providing you with a proper inspection record. This allows the fire technician who performs the next inspection to know exactly when it was last serviced and provides the building owner with proper documentation that they are in line with the local fire code.
Where to get a fire extinguisher inspection near me?
Pacific Fire & Security provides complete fire extinguisher services for commercial buildings in the Greater Seattle area. Whether you are located in Seattle, Bellevue, Kirkland, Redmond, Snohomish, or Tacoma, look to us for the most thorough, high-quality, and convenient fire inspection services. We can't wait to serve you!
How often should I get a fire extinguisher inspection?
In accordance with OSHA and NFPA code 10, you are required to have your fire extinguisher inspected annually. A certified fire safety technician must complete this inspection and record the results via your fire extinguisher tag.
What are fire extinguisher inspection tags?
A fire extinguisher tag is a label attached to the fire extinguisher that documents its serial and model number, the license number of the fire technician who performed its last inspection, as well as the date. This tag ensures that you have proper documentation on each extinguisher inspection to remain in compliance with NFPA 10.
Do fire extinguishers expire?
Fire extinguishers do not have a strict expiration date. However, with time they can become less effective. It depends on your fire extinguishers manufacturer's date and their recommended replacement time, as well as its overall condition and amount of maintenance.
Can a fire extinguisher only be used once?
No, you can use some types of fire extinguishers multiple times. However, you will need to recharge it between uses. We recommend that you check its label to see if it is reusable or only suitable for once time use.
NFPA 10 outlines the set standards for portable fire extinguishers. It ensures that property owners keep extinguishers working properly through yearly inspections and documentation.
Schedule Your Annual Seattle Fire Extinguisher Inspection Today!